Demo Day introduces our scaleups and the POCs they've been working on with our Partners.
Demo Dayでは、スタートアップと、彼らがパートナーと共に行なってきた実証実験を紹介します。
Over the course of three months, the Startupbootcamp Scale Osaka Partners have been working together with our international scaleups to produce a POC to launch the scaleup's Japan market entry.
3ヶ月の間、Startupbootcamp Scale Osakaのパートナー企業は、日本市場へ参入するためのPOCを行うため国際色豊かなスタートアップ企業と協力してきました。
The Startupbootcamp Scale Osaka program Demo Day is a chance for all the scaleups and partners to introduce their POCs that they have been working on.
Startupbootcamp Scale Osaka プログラム Demo Dayでは、スタートアップ 企業とパートナー企業が協力して行なってきた各々のPOCを発表します。
The Demo Day is a celebration of these projects and a unique opportunity to learn about and meet the international scaleups that are entering the Japanese market.
このDemo Dayは、これらのプロジェクトの成果発表会であり、また日本市場に参集している国際色豊かなスタートアップ を知り、彼らに会うことのできるユニークな機会となっています。
Please note that this event is invite only.
このイベントは招待を受け取った方のみご参加いただけます。
About Startupbootcamp Scale Osaka and the Program / Startupbootcamp Scale Osakaとプログラムについて
Startupbootcamp Scale Osaka is an equity-free innovation program for high growth Smart City companies to expand globally, increase their revenues, and access significant funding opportunities in Japan, the world's 3rd largest economy.
Startupbootcamp Scale Osakaは、高成長しているスマートシティ領域の事業を展開するスタートアップ企業がグローバルに拡大し、収益を増加させ、そして世界で3番目の経済大国である日本での重要な資金調達機会にアクセスするためのエクイティフリーの革新的なプログラムです。
By focusing on seed-funded companies with validated business models, the program is designed to help founders scale their business in Japan, with a focus on sales, business development and running pilots with some of Japan's, and the world's largest corporates.
検証済みのビジネスモデルを持つシード期よりも後の段階の企業に焦点を当てることで、このプログラムは、セールスや事業開発、そして日本や世界の大企業とともにパイロットを運営することに焦点をあて、ファウンダーが日本において事業拡大できる支援ができるよう作られています。
The first cohort of Startupbootcamp Scale Osaka connect Smart City scaleup companies from around the world to collaborate in the areas of Mobility, Living, Health & Wellbeing and Tourism. A particular emphasis is placed on increasing revenues through targeted access to industry partners like Hankyu, JR West, Dentsu, Sakura Internet, JT, The Yomiuri Shimbun and SMBC.
初年度の Startupbootcamp Scale Osakaは、世界中のスマートシティにおけるスケールアップ企業と関係を築き、モビリティ、生活、健康・福祉、観光といった領域において協働しています。
Startupbootcamp Scale Osaka Partners / Startupbootcamp Scale Osaka パートナー企業のご紹介

Hankyu Corporation is a Japanese railway operator and is one of the core companies of the Hankyu Hanshin Holdings Group. The HHH Group conducts business in the seven core segments of urban transportation, real estate, entertainment, information and communication technology, travel, international transportation and hotels with the revenue of approximately US $7B. They are exploring potential innovative ideas to introduce to improve living, hospitality and overall bring about positive impact to the city of Osaka.
阪急電鉄株式会社は、日本の鉄道事業会社であり、阪急阪神ホールディングスグループの中核会社の1つです。 阪急阪神ホールディングスグループは、都市交通、不動産、エンターテイメント、情報通信技術、旅行、国際輸送、ホテルの7つのコアセグメントで事業を行っており、収益は約70億米ドルです。阪急阪神ホールディングスグループは、生活、ホスピタリティを改善し、全体的に大阪市にプラスの影響をもたらすために導入する潜在的かつ革新的なアイデアを模索しています。
The Yomiuri Shimbun is a leading Japanese media group issuing about 8 million daily newspapers, the largest number in the world. As well as their news and media outlets, The Yomiuri Shimbun also owns a series of different branches in sports, esports, travel and entertainment, which are eager to adopt and develop new innovation.
株式会社読売新聞大阪本社(以下、読売新聞)は、世界最大の発行部数である日刊紙約800万部を発行する、世界有数の大手メディアグループです。読売新聞は、ニュースやメディアのほか、スポーツ、eスポーツ、旅行、エンターテイメントのさまざまな事業を展開しており、新しいイノベーションの採用と開発に意欲的です。
Dentsu is in the top 5 largest advertising networks globally. Their influences ranges across many different business spheres and holds large potential. They are looking to explore foodtech, adtech and sportstech within Osaka/Kansai and hope to bring about innovate ideas for the future development business in Osaka and the 2025 World Expo.
株式会社電通(以下、電通)は、広告ネットワークにおいて世界でトップ5位の会社です。電通は、大阪・関西を含む地域でフードテック、アドテック、スポーツテックを探索しており、大阪や2025年に大阪で開催される日本国際博覧会において、将来的な事業開発に対する革新的なアイディアをもたらすことを願っています。
JR West Group is a giant operating across transport, real estate, retail and other businesses with just under US$8B in total assets. JR West Innovations is the CVC of JR West group ,and they focus on entrepreneurship, innovation and exploring new potential angles that will support the JR West Group.
JR西日本グループは、約80億米ドルの総資産を持ち、輸送、不動産、小売、その他の事業にわたって様々な大規模な事業を展開しています。株式会社JR西日本イノベーションズは、JR西日本グループのCVCであり、アントレプレナーシップ、イノベーション、そしてJR将来西日本グループを支えるような新しく潜在的な見地の探索に注目しています。
JT Group is currently engaged in tobacco, pharmaceutical and food businesses, with operations in over 130 countries. They are heavily looking into new ideas, approaches and innovation to improve people's lives and lifestyles.
日本たばこ産業株式会社(以下、JT)は、現在、タバコ、医薬品、食品事業に従事しており、130か国以上で事業を展開しています。そして、JTは人々の生活とライフスタイルを改善するための新しいアイデア、アプローチ、革新を深く検討しています。
Sakura Internet is Japan's largest Web Hosting provider, leading as a data center business with high capacity backbone, a high-speed internetwork and technologically advanced facilities. They are looking to support innovative ideas to help them grow.
さくらインターネット株式会社は、日本のWebサービスプロバイダーのスペシャリストであり、大容量のバックボーン、高速インターネットワーク、および高度な設備を備えたデータセンタービジネスを牽引しています。自社の成長を助ける革新的なアイデアを支援しようと模索しています。
SMBC is one of Japan's largest financial institutions with an extensive domestic and global footprint. They are hoping to assist innovative ideas and help companies build a network that would support them in the future.
株式会社三井住友銀行(以下、SMBC)は、国内および世界中に広範な実績を持つ日本最大の金融機関の1つです。SMBCは、革新的なアイデアを支援し、企業が将来それらをサポートするネットワークの構築を支援したいと考えています。
The Scaleups / スタートアップ企業のご紹介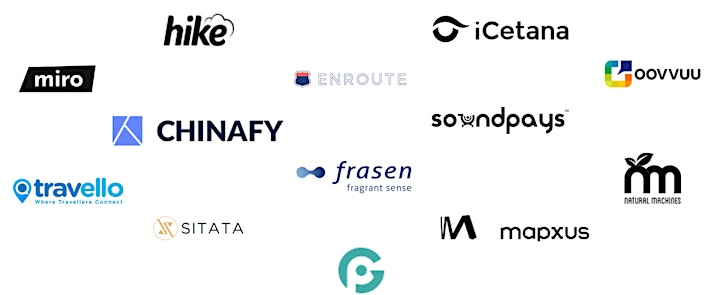 Event Schedule / イベントスケジュール
16:30 – Registration / 受付開始
17:00 – Introduction / ご挨拶
17:30 – Presentations / プレゼンテーション
19:55 – Closing Speech / 閉会
20:00 – Main Event Finished / メインイベント終了
20:15 – Dinner & Networking (Held at Hotel Hankyu Respire Osaka [Map]) / 夕食会 & ネットワーキング (ホテル阪急レスパイア大阪へ移動 [地図])
Please note that all details of the event are subject to change.
上記のイベント詳細は変更される可能性があります。あらかじめご了承ください。
26 February, 2021 4:30 pm

-

10:00 pm

Free
Event Navigation